Improve your customer experience and efficiency by implementing self-service POS kiosks
In today's fast-paced business environment, offering seamless and convenient payment choices is critical to improving the customer experience. There is a need of providing flexible and effective payment solutions that meet your consumers' changing buying behavior. In this sense, self-service point-of-sale (POS) kiosks have emerged as a game changer, enabling businesses to increase consumer satisfaction while simultaneously lowering staff expenses.
We understand the importance of improving payment processes at Solteq, which is why we provide innovative self-service POS kiosks as part of our Solteq Commerce Cloud POS system.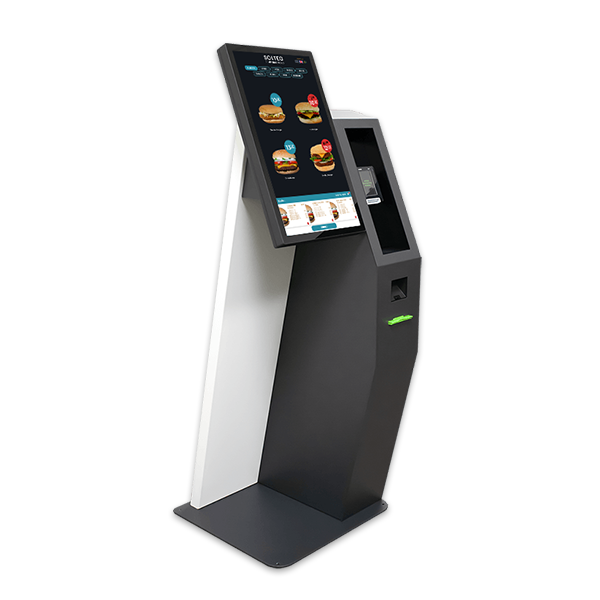 Benefits of enabling self-service checkouts
There are numerous advantages and benefits to self-service POS kiosks. For starters, they provide customers with a self-guided and easy payment experience. With simple touchscreens and user-friendly interfaces, these kiosks enable customers to perform transactions independently, eliminating the need for long lines and shortening wait times. The ease and quickness of self-service payments promote client satisfaction, resulting in increased loyalty and repeat business. In some cases it has also been noticed that the option of self-service has increased the average purchase value.
Furthermore, by automating payment processes, self-service POS kiosks save crucial labor expenditures. Instead of having many personnel entirely committed to transaction processing, these kiosks handle payments effectively, freeing up your staff to focus on more strategic and customer-centric activities. You may optimize your human resources by automating common payment activities, enhancing productivity and overall operational efficiency.
Self-service POS kiosks provide important insights regarding client behavior and preferences from a business standpoint. You may collect statistics on transaction volumes, peak hours, popular products, and more using integrated analytics and reporting options. These insights allow you to make more educated business decisions, such as managing inventory, personalizing offers, and improving overall consumer engagement.
Finally, self-service POS kiosks are an effective choice for organizations looking to improve customer experiences and streamline payment operations. By implementing Solteq Commerce Cloud POS System and integrating self-service kiosks into your operations, you can provide your customers with convenient, intuitive, and flexible payment options.
Streamline operations, elevate customer experience, and stay ahead of the competition with self-service POS kiosks/checkouts.



Read more about how implementing self-service POS kiosks have helped our customers
Read more about how implementing self-service POS kiosks have helped our customers