What is web analytics?
Web analytics help to identify the bottlenecks in your online store, analyze customer behavior, and track the performance of marketing efforts
With web analytics you can collect data and lead your online business
Web analytics is used to measure and analyze the visitor data on your website. It helps you understand customer online behavior, identify the strengths and weaknesses of your website, and make data-based decisions for the business.
High-quality data enables improving the user experience of your site and therefore directly influence key performance indicators such as exit and conversion rates and marketing effectiveness and costs.
With web analytics, marketing and channel performance can be easily assessed. Website data allows you to understand customer online behavior and figure out any issues in the sales funnel.
There are many different tools for web analytics - like Google Analytics and PiwikPro.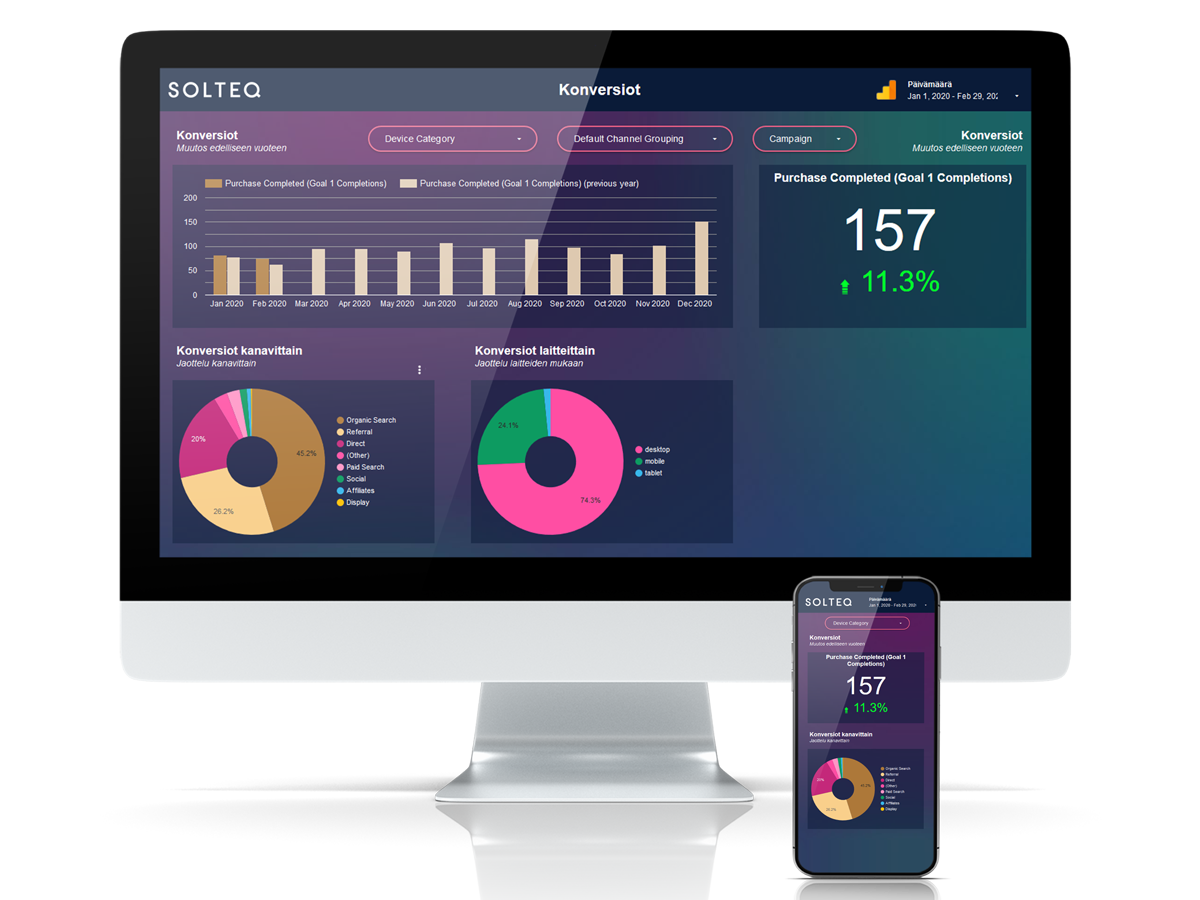 Good decisions are based on reliable KPIs
A key performance indicator or a KPI is a measurable value that indicates the performance of your business. It is a necessity to measure and track KPIs to succeed in eCommerce.
KPIs can be used to track basically anything related to running your business. For example, in sales KPIs like conversion rate or revenue are great performance indicators. Typically, eCommerce related KPIs are set to answer questions like:
How many people arrive from search engines to buy your online store?
How much has the revenue of your online store changed from last year?
Does traffic from search engine marketing have a higher conversion rate than traffic from social media marketing?
Does the average spending of your customers vary according to their geographical location?
Does the weather influence your customers' engagement rate?
Web analytics tools
There are many different tools that are used in web analytics. In addition to the web analytics tool itself, the most important ones are tag managers and data visualization tools.
Tag manager
Tag managers are used for managing tags (short code snippets or tracking codes) on your websites and mobile apps without involving a developer and without having to touch any code on site. They enable you to create customized and detailed tracking for all your needs. The most popular tag managers are Google Tag Manager (GTM) and Adobe's Dynamic Tag Management (DTM).
Data visualization
Visualization makes data informative and easy to digest. Data visualization helps you to interpret the key performance indicators, the KPIs, that are the most important for your business. You can combine multiple data sources into a single dashboard so you can more easily track and manage your whole business. Some of the most popular tools for data visualization are Google Data Studio and Microsoft Power BI.
Our services for web analytics
Analytics audit
Because web analytics data is used to support business-critical decisions, you need to be confident about the data and its quality. Our analytics audit service ensures that the analytics setup follows best practices and that the data is reliable. Our analytics audit covers over 60 specific tests that are crafted to validate everything from account structure to error-free data collection. As a result, you get a report of all the test items, but also a plan for fixing any possible errors. When your web analytics is working correctly you can lead and develop your business with the highest efficiency.
eCommerce measurement and KPI plan
A good measurement plan defines relevant and measurable goals so you can lead your eCommerce development, make data-based decisions in marketing, and optimize conversion rates. When your KPIs are well-planned and documented, you can use them effectively in your daily business and with all stakeholders.
Data from different sources and dashboard visualizations
Do you know where all your data is stored and whether you are utilizing it to the fullest? Many analytics tools are difficult to use and finding the right information can be challenging or at least labor-intensive. We visualize your key performance indicators into a single dashboard, so you can easily track the things that matter the most to your business. A dashboard combines multiple data sources into a clear, visual format, so you have a better understanding of your website's performance. Dashboards can also be used to reduce the time you use on creating reports and presentations, so you can use your time for analysis and making meaningful decisions.
Google Analytics Enhanced eCommerce setup
Do you have an online store and use Google Analytics? Do you want to have more information about how your online store is performing? If so, you should consider using Google Analytics Enhanced eCommerce.
With the Enhanced eCommerce setup, we can track the online store performance even more precisely: Which products and categories bring the most revenue, how the users behave in the checkout funnel, or what is the impact of internal promotions on product visibility and sales. The collected data can be used in marketing and conversion rate optimization, for example.
In addition to Enhanced eCommerce setups, we also provide diverse Google Analytics setups for B2B companies.
Tag management
The setup you have created in your Google Tag Manager directly influences the quality of your data. Because of this, it is important to make sure your tracking setup works correctly, and the necessary data will be collected. In advanced tracking cases, the data quality can be improved by prioritizing the tags correctly and by making improvements to the coding of the website. We often encounter unused or unnecessary scripts from third parties, that negatively impact the website's performance and user experience.
For these reasons, we provide a free Google Tag Manager audit for our potential customers and help them to create and manage the tracking implementations.
Piwik PRO – focused on data security and privacy
Piwik PRO is an analytics tool focused on user data security and privacy, while offering a comprehensive and flexible solution for understanding and optimizing the activities of website users. Given its improved data security and fully GDPR-compliant data protection, Piwik PRO is especially popular in the public sector.
It offers many of the same easy-to-use features as Google Analytics or GA360, making it a competitive alternative for web analytics. Whether you're looking to increase conversions, improve user experience, or understand your return on investment (ROI), Piwik PRO has the tools and features to help you succeed.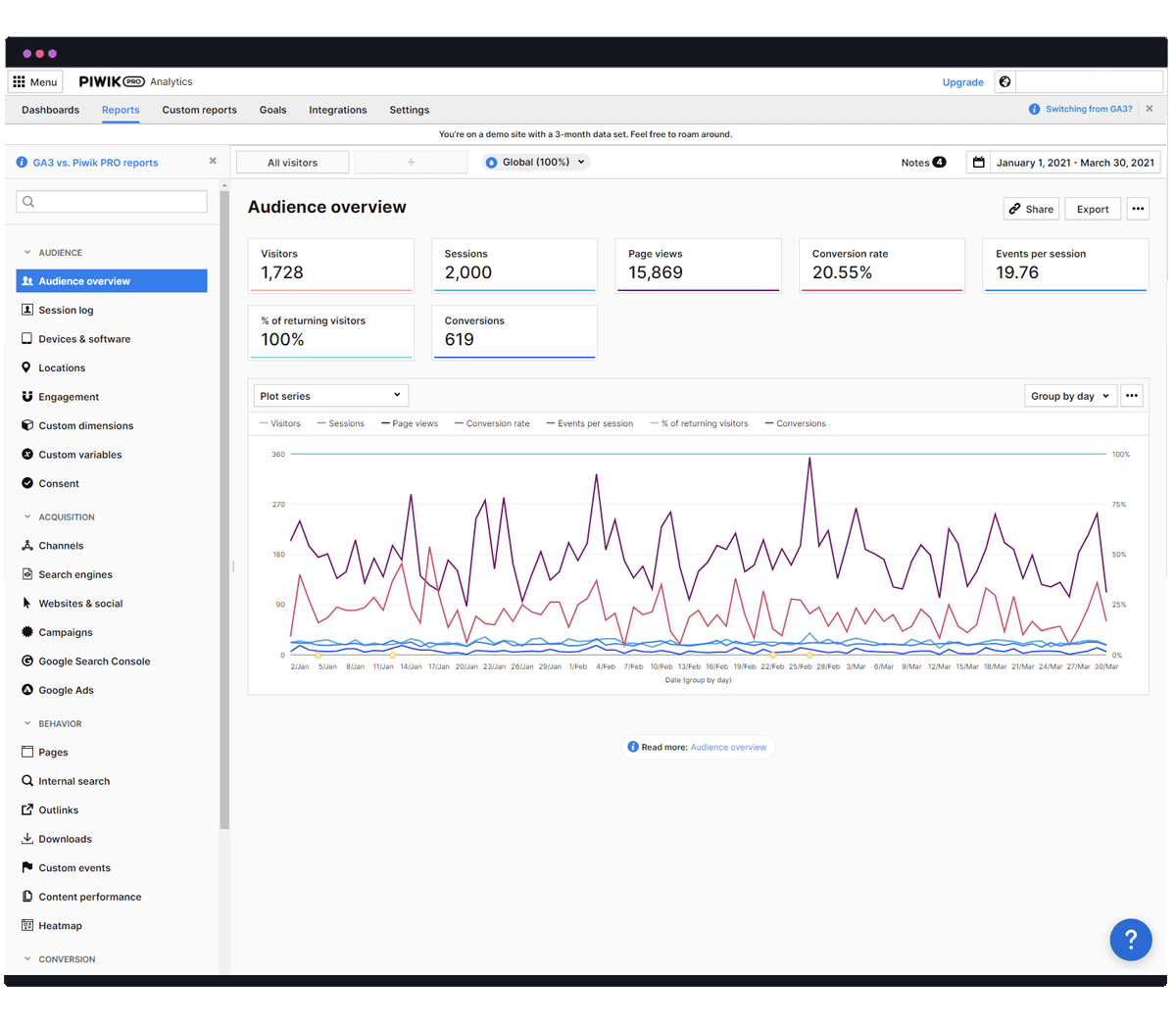 Piwik PRO offers:
Tag management tool
Customized reports and dashboards
Cookie management tool
Management of enhanced security and data protection
eCommerce tracking
Integration to other tools (e.g., Google Ads and Search Console)
There are two different versions of Piwik PRO – free and paid:
Piwik PRO Core is a free version for smaller websites that allows up to 500,000 actions per month.
Piwik PRO Enterprise is the paid version, which allows a higher amount of traffic and has even more useful features. The Enterprise version is well suited for corporations, larger eCommerce sites, and public sector operators.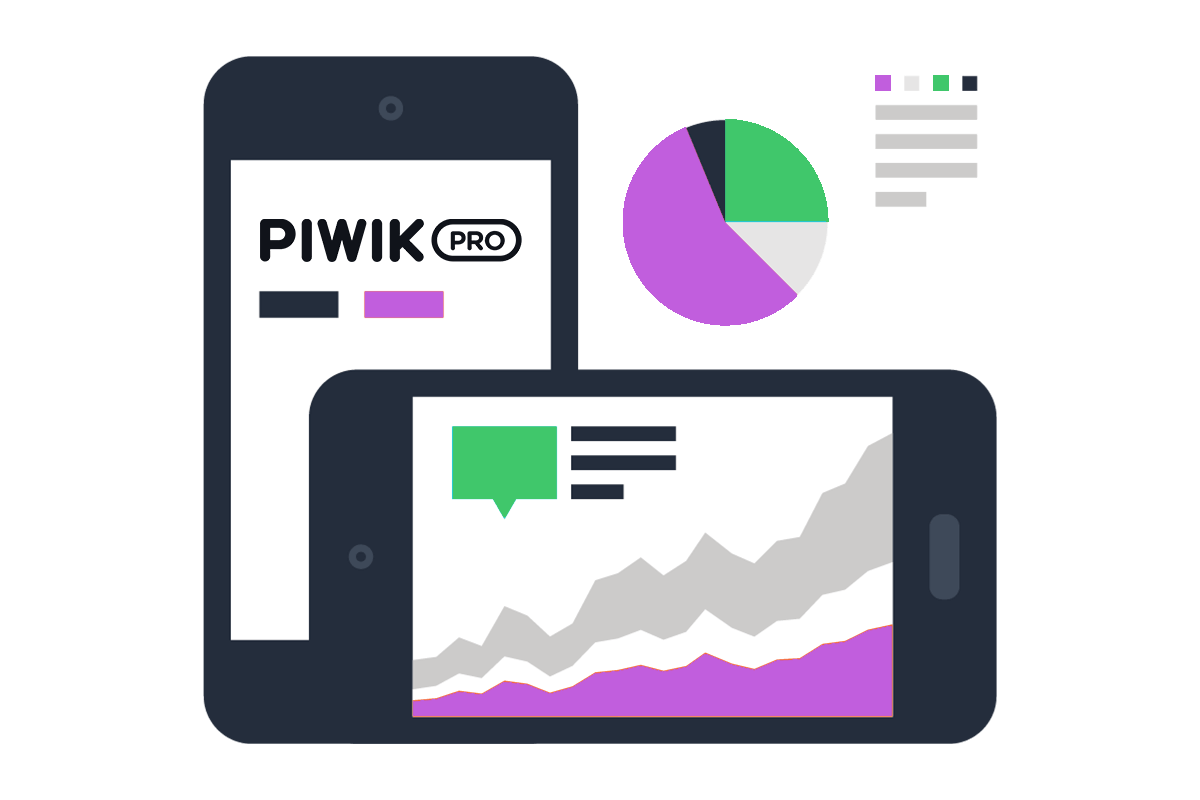 We are an official retailer and agency partner
Solteq is an official retailer and agency partner of Piwik PRO in Finland, Sweden, Norway, Denmark, and Poland. From us, you'll get professional know-how and consulting services that help you get the most out of Piwik PRO.
Our services include:
Piwik PRO installation
Web analytics auditing
Creating an eCommerce measurement plan & defining KPI's
Tag management
Data visualization
Implementation of CDP
Cookie management
Maintenance and training
Data security and privacy
Piwik PRO can be installed on Piwik PRO's cloud infrastructure, with an option to store user data only within the EU, therefore being GDPR-compliant.
Alternatively, it can be installed in a private cloud environment, or it can be installed directly on your own server. In this case, you gain ownership and full control of the data, which means you know where the data is stored, how it is processed, and who has access to it. In this way, you avoid sharing information with third parties.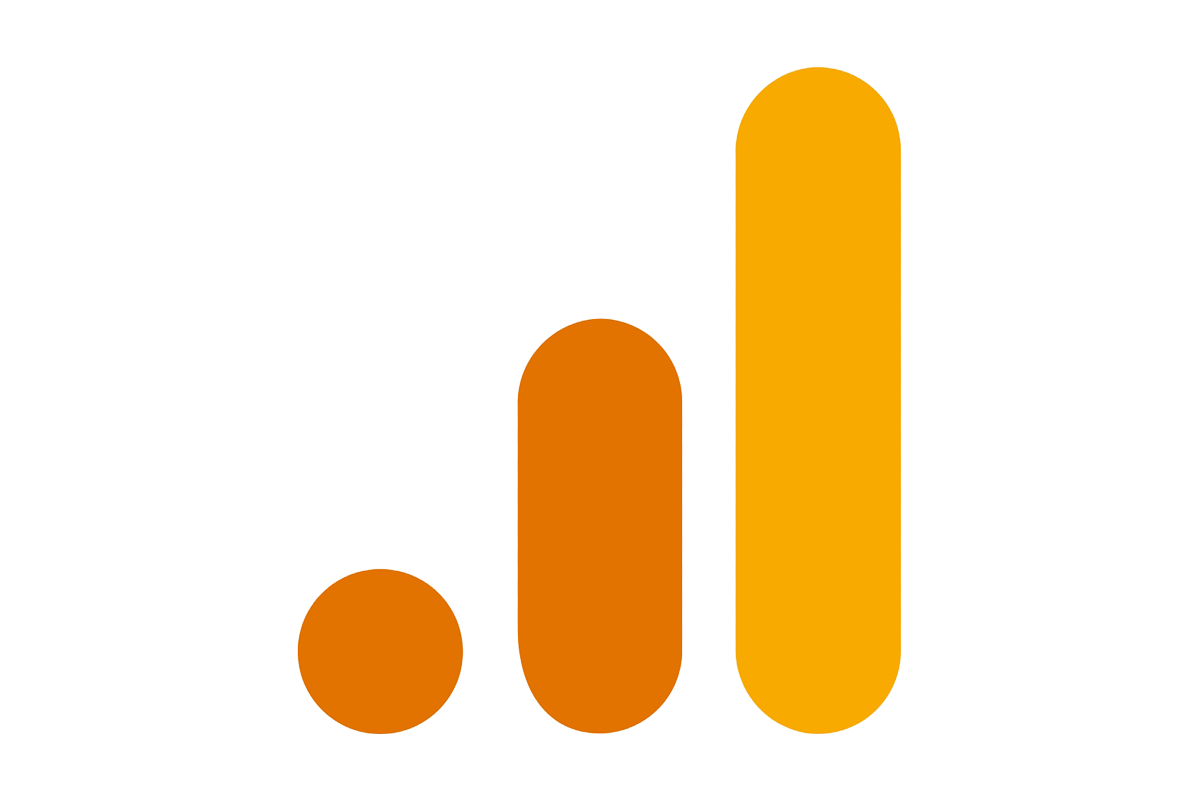 Google Analytics training
Google Analytics is an invaluable tool for marketers and developers alike. Do you want to learn how to take advantage of Google Analytics to improve your business? Our Google Analytics training is always tailored to suit your needs. The training could aim for certification or for providing you with the tools needed for analyzing your sales reports more effectively, for example.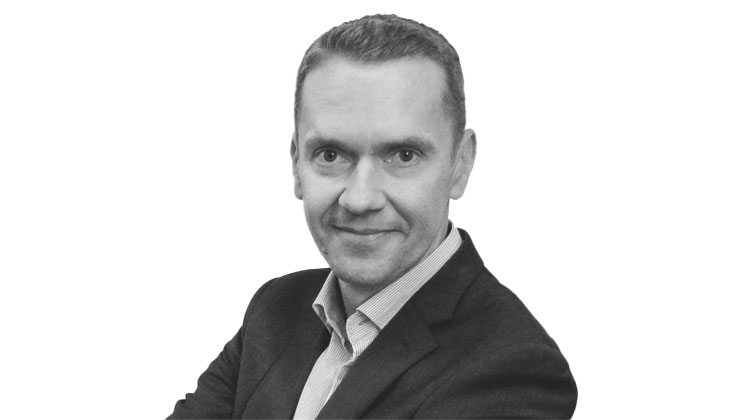 Your expert
Juha Vuohelainen
Director, Digital Strategy