The Dealer Management System (DMS) for vehicle maintenance and after-sales services
Solteq WebService
Solteq WebService – a DMS for the automotive industry
A comprehensive, cloud-based DMS/ERP system for vehicle maintenance and after-sales services. With Solteq WebService, you can handle after-sales processes in a streamlined manner and integrate them seamlessly into the digital operating environment.
Comprehensive solution
Solteq WebService is a modern after-sales Dealer Management System (DMS) that offers comprehensive functions for car maintenance and spare parts logistics. The system can be implemented modularly, adapting to the customer's needs.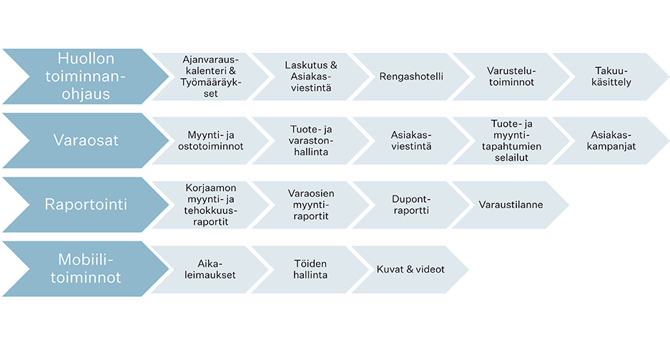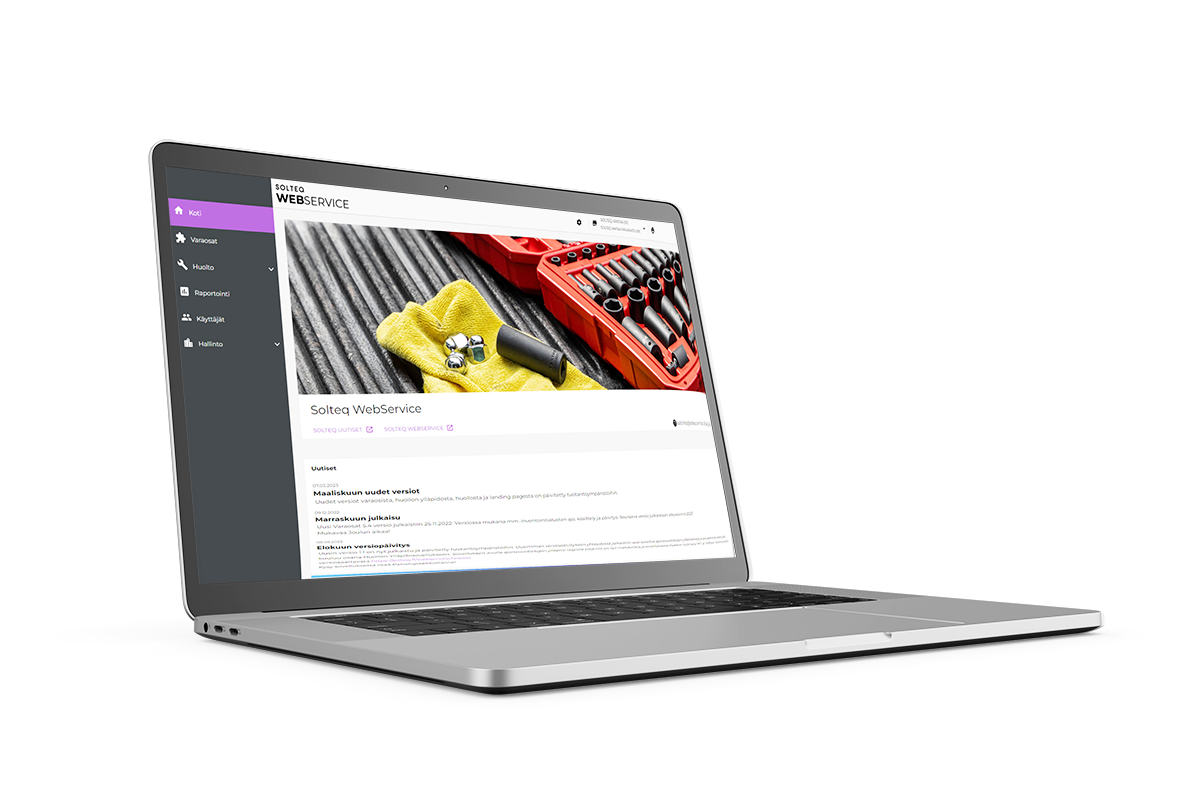 Solteq WebService functionalities
WebService Maintenance system

Additional modules:

Tire hotel
Manage equipment orders
Warranty processing
Leimaustoiminnot

WebService Spare part system
WebService Mobile functions
WebService Reporting
Comprehensive manufacturer integrations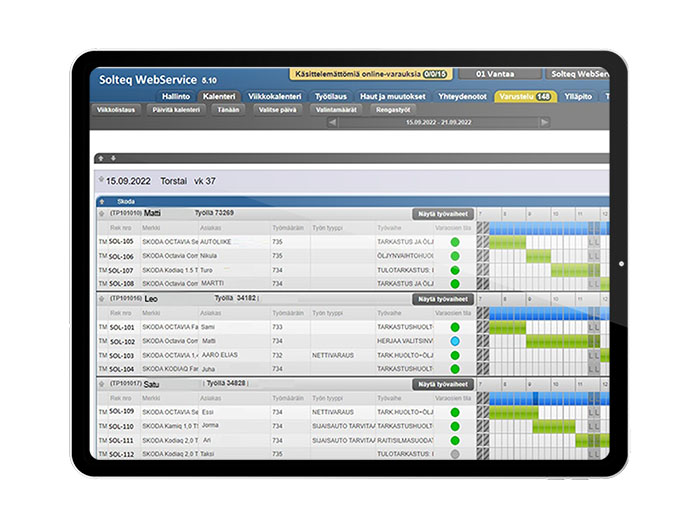 System for vehicle maintenance
The system supports the daily customer work all the way from booking the maintenance for a vehicle to invoicing and provides tools for delivering a high-quality customer experience. The interfaces are modern and intuitive. Important issues and things that need special attention are highlighted - this ensures smooth service operations and a positive customer experience. Online bookings are integrated directly into the service process – leaving out the need to process separate emails manually. Vehicle and customer data are connected to importer and Traficom and major importers' databases.
The sophisticated system automatically sends confirmation and reminder messages to customers in order to notify them about the upcoming appointments. Customer communication can be conducted via SMS or email. Extensive integrations to major importers' and manufacturers' systems provide up-to-date and accurate maintenance workflows and service package information. You can communicate with the customer during work directly from the work order by SMS or email, including images and videos, and all communication with the client will remain in the system/on the work. Mechanics can timestamp their work on a mobile device to improve their effiiency – without having to do so in a separate stamping terminal.
Invoicing customers is easy, even when there is a need to split an invoice among several payers. Invoicing supports the car and insurance invoicing standars, speeding up the payment processes with insurance companies. For cash payments, the system has an integration with Solteq Commerce Cloud POS system, which enables a wider range of payment methods.