Solteq Commerce Cloud is a modern, cloud-based POS system for the restaurant sector
It combines cashier functions/cash register systems and the management of sales, orders, deliveries and product information. It also enables efficient control of core functions, such as kitchen processes. The solution is easy to use and to integrate into other systems. It also enables multichannel sales by collecting orders from various order channels directly into the kitchen for preration and to the point of sale.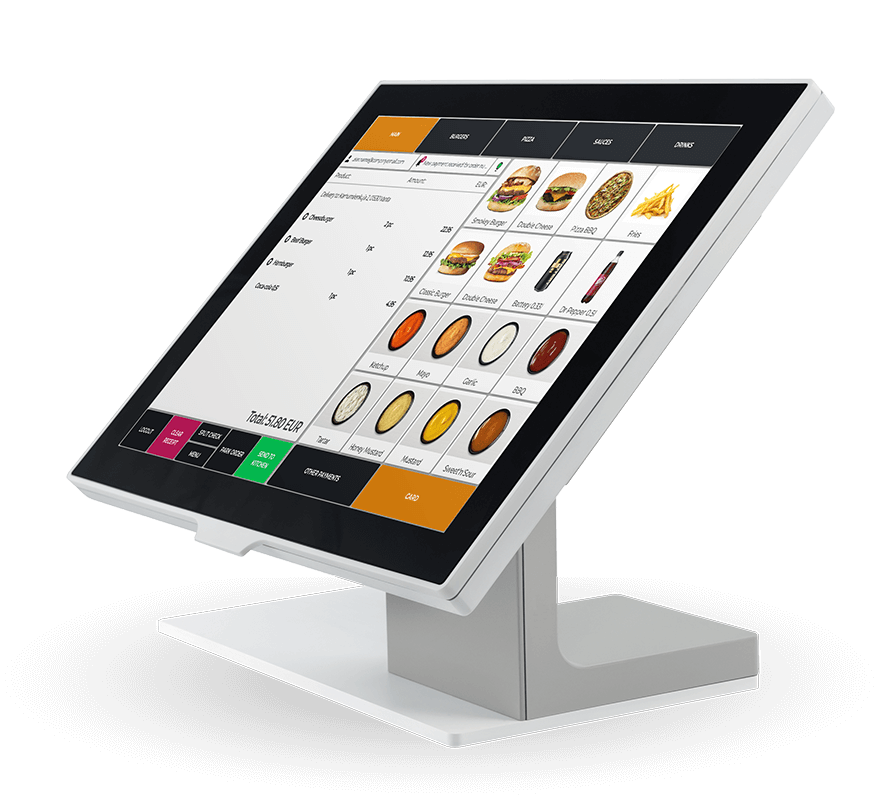 What is Solteq Commerce Cloud POS system suitable for?
Solteq Commerce Cloud POS system serves the needs of various types and sizes of restaurant sector businesses, ranging from single fast-food restaurants to lunch restaurants and cafes, and also chain managed restaurants.
The solution is simple, visual and intuitive, with everything controlled through a web browser. The solution supports various sales channels, such as traditional points of sale, a lightweight mobile POS, self-service POS kiosk and online shop. The appearance and UI (User Interface) as well as device management is controlled on a website.
Solteq Commerce Cloud, thanks to its offline feature, is also a reliable solution for festivals, events and fairs.
Solteq Commerce Cloud solution collects orders from various sales channels to a display in the kitchen for preparation. Status changes of the orders are updated to the customers for example via email or via customer displays at the restaurant.
The solution's back-end system supports centralized sales and control. The restaurant chain (even with multiple concepts within the chain) can manage product information, recipes, prices and more from the back-end system. Similarly, sales of each individual restaurant can be checked in real time from a single system. Sales data can be integrated from a centralized back-end system to an accounting system, saving time and reducing the possibility of errors.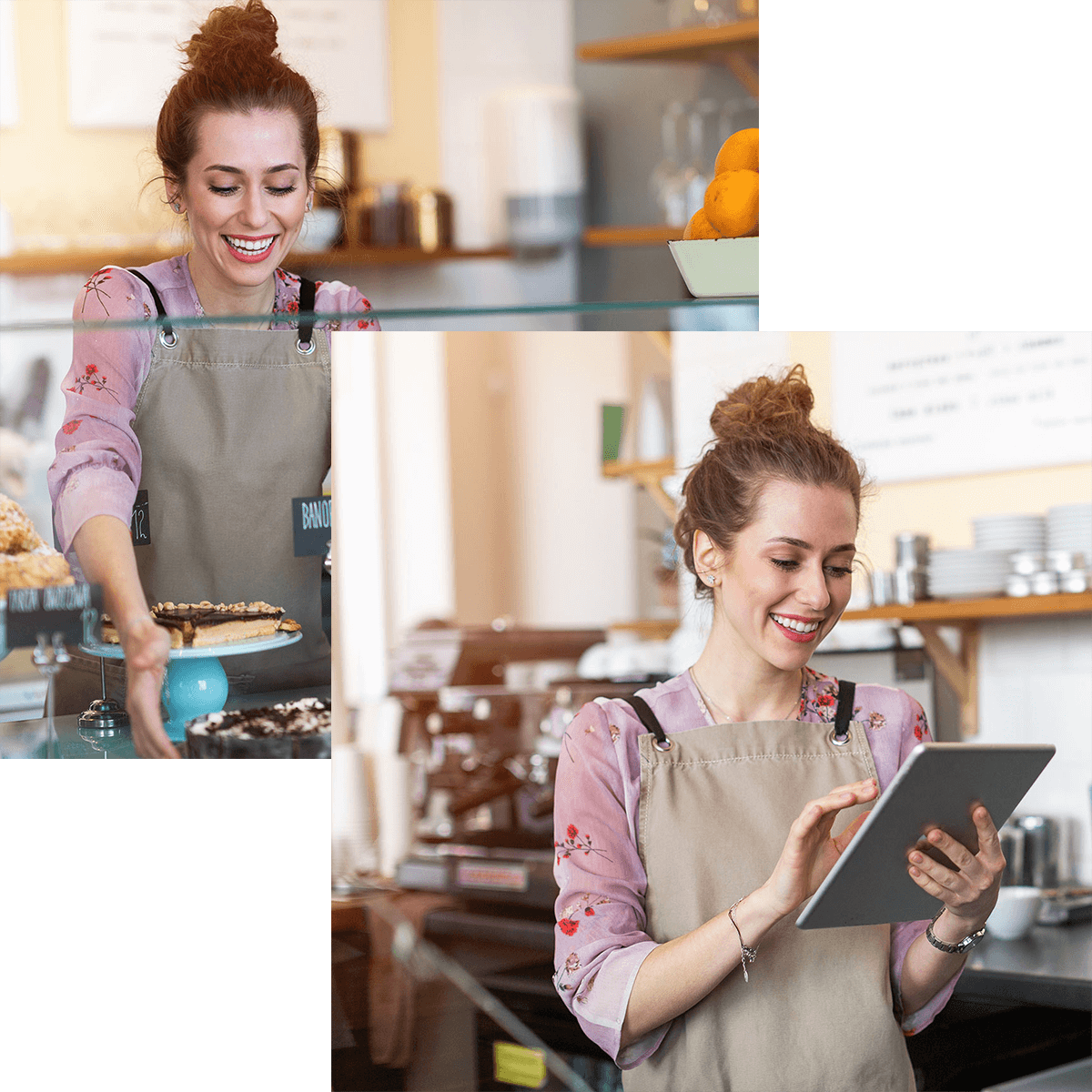 Take full benefits from Solteq Commerce Cloud in your restaurant
Improved customer experience
Restaurant customers receive a uniform service experience regardless of the purchase channel and a chance to make purchases regardless of time.
Improved restaurateur experience
Enables the restaurateur to use multiple sales channels. All orders are stored and managed centrally.
Savings in working hours
The restaurant staff's time is saved as the delivery chain's various stages are linked to each other seamlessly.
Error elimination
The possibility of human error is reduced: information flows automatically from sales to the kitchen, reduring the possibility of human errors.
Data to support decision-making
You get real-time and centralized information to support your planning and decision-making (product information management, sales, inventory balances, etc.).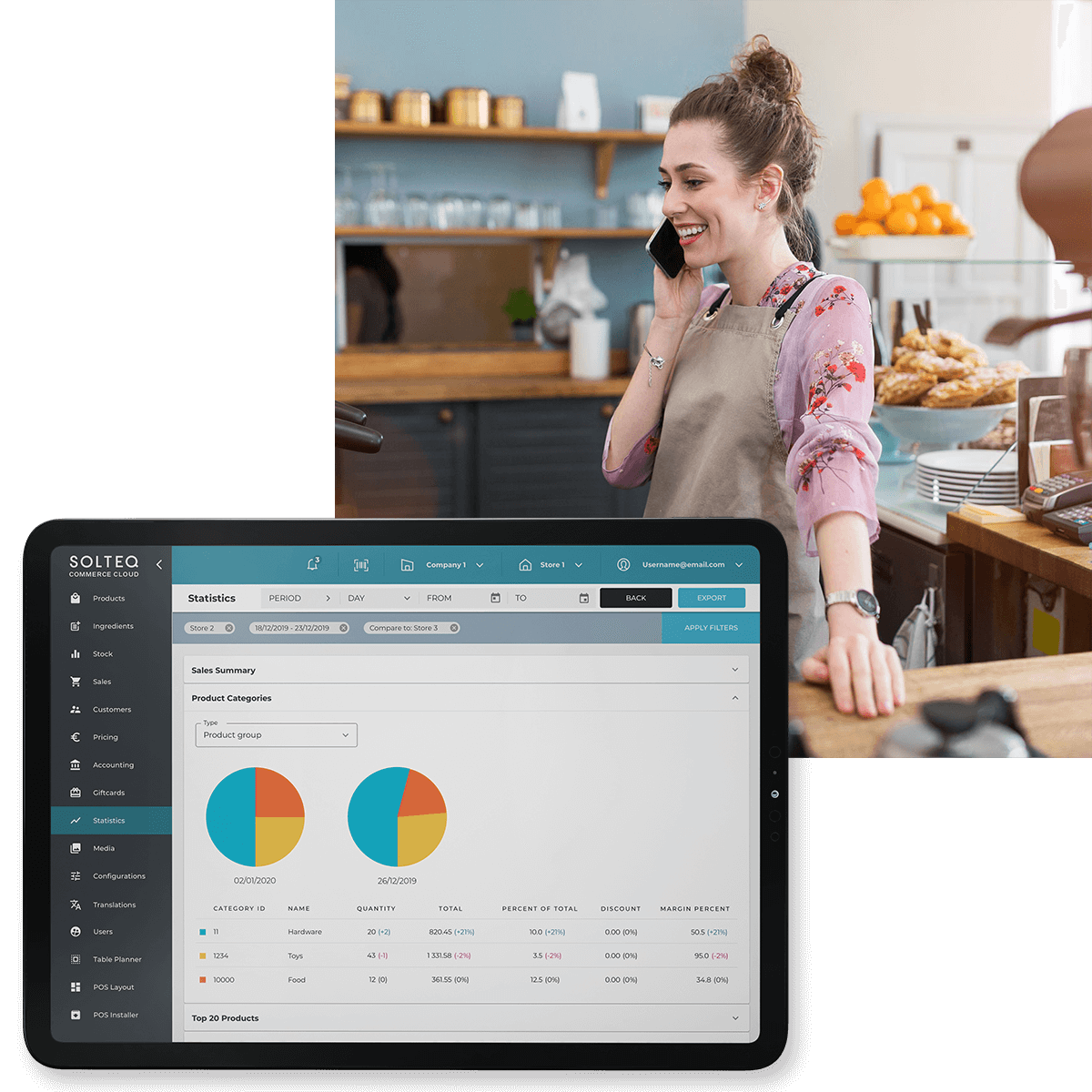 The entire business in a single view
The solution gives the restaurateur a view of the entire business (sales, preparation, delivery) from a single location.
Legal requirements met at all times
The cash register system always meets the requirements of the local legislation. The cash register system offers real-time report straight from the back-end system, including payment method and VAT reports and sales.
User-friendly
Visual user interface familiar to users of touch devices, making the system easy to learn and use.
Continuous development and automatic updates
Continuous development and automatically updated modern solution with a long life cycle ahead.
Enables various payment methods
Enables a variety of local payment methods.
Grows as your business expands, also abroad
As your business expands, the solution is easy to scale up. The solution enables expansion also abroad, as Commerce Cloud supports local requirements in the Nordic countries and northern Europe.
Useful features for restaurants
Solteq Commerce Cloud solution consists of a range of features.
Reporting
Dealing with food waste
Real-time operational statistics
Versatile reporting per channel
Sales channel management
Management of multiple sales channels with a user-friendly user interface
Recipe management
Flexible and versatile recipe management per sales channel
Automatic product and allergen information integrated into the system (GS1)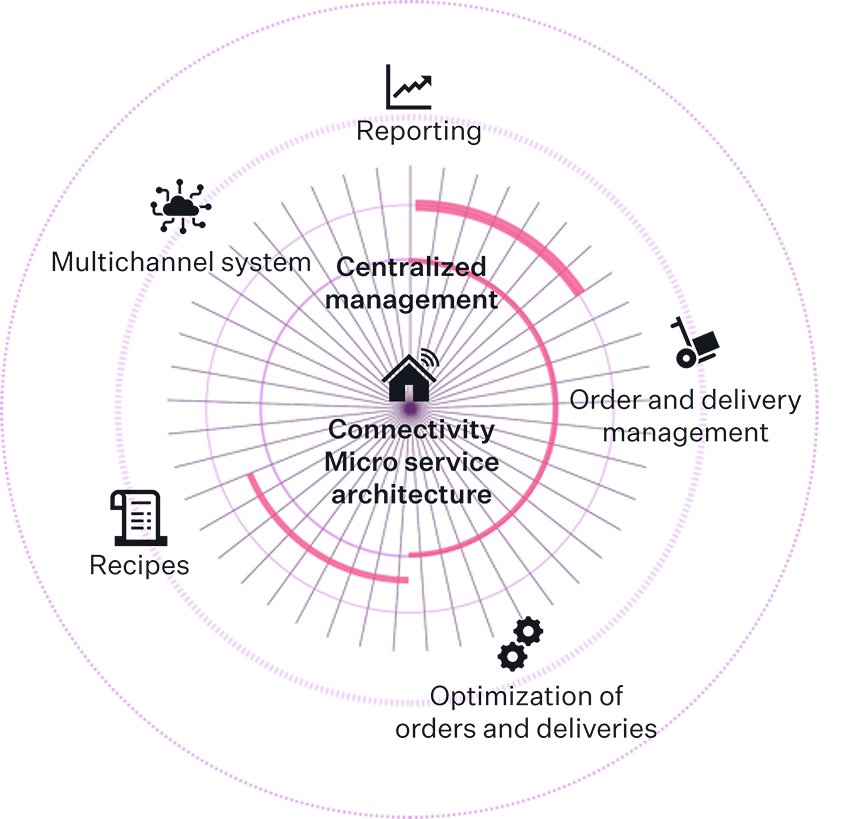 Management of orders and deliveries
Delivery application (coming later)
Channel-independent management of order and delivery chain from a single location
Optimization of orders and deliveries
Management of multichannel sales processes from a single location
Customer communication from order to delivery
Industrial kitchen order queue and its management in a visual form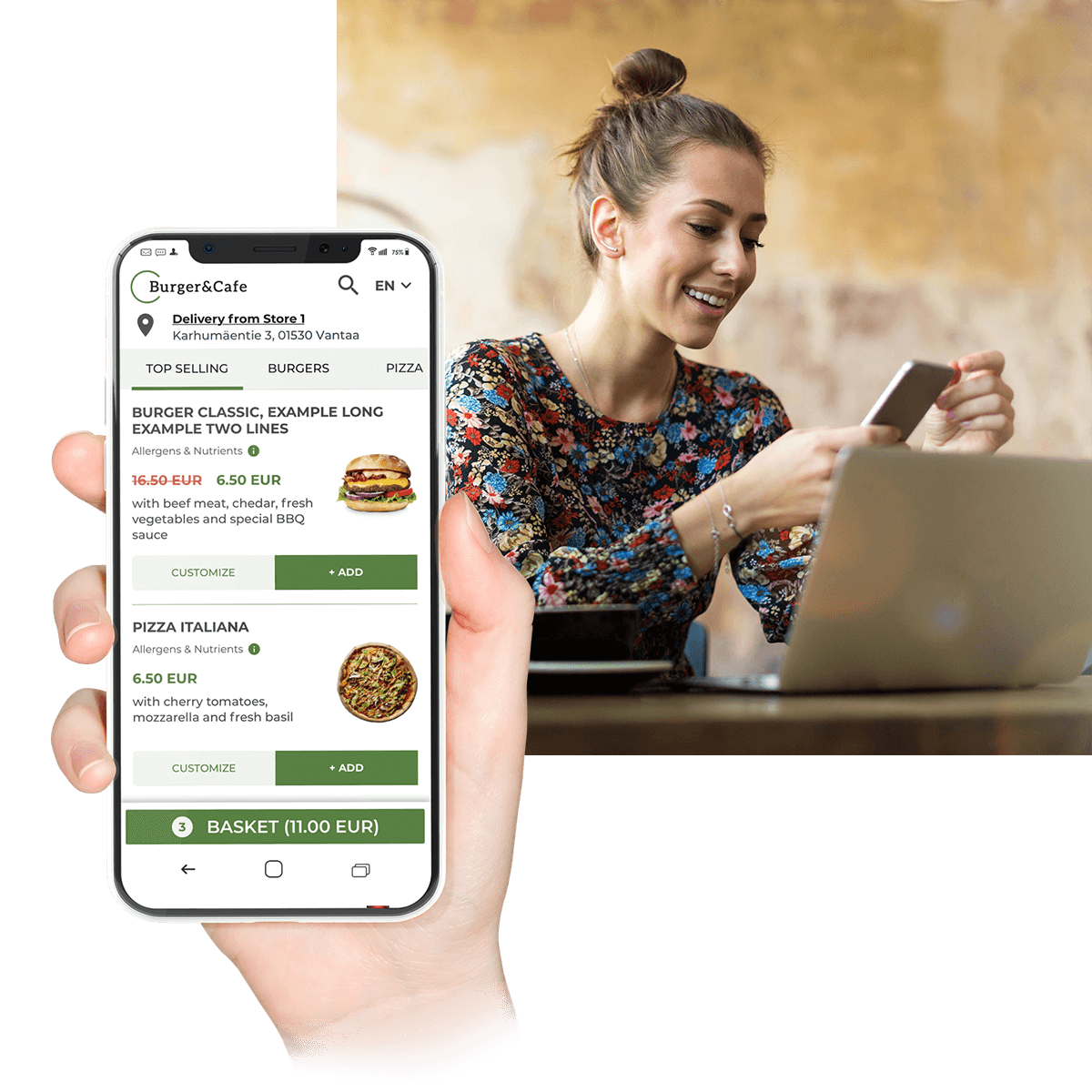 Additional sales from online – selling further than the brick-and-mortar restaurant's immediate neighborhood
According to a Finnish nationwide survey* we commissioned, only some 25 percent of restaurants provides customers with the option of ordering food online for home delivery or pick-up. This is despite 94 percent of restaurants having a website. So why not consider setting up an online shop for your restaurant and offer your customers an alternative channel?
Solteq Commerce Cloud's internal WebShop gives restaurants a quick, easy and inexpensive way to set up on online shop. Your customers can choose what to order and then decide whether they want delivery or pick-up, or have it ready when you arrive and eat it at the restaurant. The WebShop works on mobile devices, internet browsers, and supports the most common online payment methods. As WebShop is an integral part of the Solteq Commerce Cloud platform, product information and pictures about restaurant portions are easy to distribute in various sales channels, and to update centrally. As all the information is together in one place, it is also available in real time for reporting, for example.
*) Survey on digitalization in the restaurant business (April 2021) N = 100. Survey carried out by Haaga-Helia University of Applied Sciences.
Success Story: VoiVeljet
Modern Point of Sales system to fuel growth
VoiVeljet is a restaurant company based on the southwest coast of Finland, in the city of Turku. They run a total of eight restaurants in the city.
From the very beginning, Solteq Commerce Cloud seemed like the most suitable alternative for VoiVeljet - a truly modern system that develops along with the needs of the restaurant business.

VoiVeljet ended up choosing the Solteq Commerce Cloud POS system, because Solteq's POS system was able to cover exactly the challenges and problem areas where the old system left gaps.
"The cooperation has been very easy and I believe that we will be able to build Solteq Commerce Cloud into a system that will help us on our way to growth."
Janne Juvonen, CEO, VoiVeljet Oy
The features of Solteq Commerce Cloud POS system
Solteq Commerce Cloud is quick and secure to set up in the cloud service. Unlike in the past, you do not need any servers or pay one-time license fees. Solution can be taken into use with basic functionalities, including also support for the solution. As your business grows, additional features can be easily activated, including for example mobile gift cards and stock management.
Cash register system/cashier functions
Supports various payment terminals, as well as mobile points of sale and self-service checkouts.
POS reports and analytics
The service includes POS reports for accounting, sales and daily reports, cashreport, and statistics. Time period can be chosen freely by day or month.
Sales, orders and deliveries
All easily seen in a single view. Time period can be chosen freely by day or month.
Restaurant and store management
The solution is suitable for businesses with one or more locations and also for chain managed businesses.
Product information management
Comprehensive support for product and service sales. You can use various units of measure, recipes, variants and package products.
Recipe management
Manage all recipes under Commerce Cloud.
Integration with other systems
Commerce Cloud can be integrated in a number of ways. It is easily integrated into online shops, accounting and other systems.
Pricing
Clear Pricing ranging from a single store to all channels.
Legislation
The cash register system always meets the requirements of the local legislation.
Online shop
Thinking about expanding your operations beyond your online shop? With Solteq Commerce Cloud, it's easy.
Inventory management
Manage your inventories easily from one view. Inventory management easily also on your mobile device.
Pre-orders
Enables pre-order.
Gift cards
Enable gift cards as payment option.
Kitchen processes
Enables control of kitchen processes and streamlines the delivery chain.
Pricing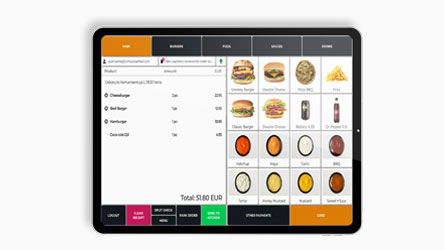 POS software for your own devices
Use the cloud-based Solteq Commerce Cloud POS solution (with full functionalities) with your own hardware.
Starting from 69 €/month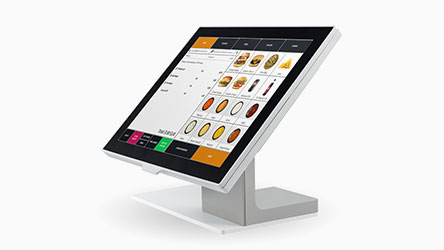 POS software + hardware
Solteq Commerce Cloud POS software + hardware from our technology partners.
Request pricing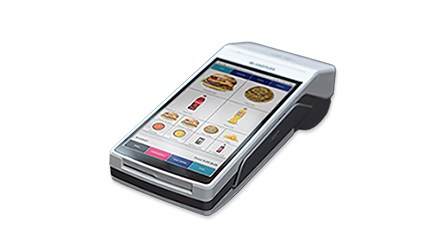 POS software for mobile device
Use the cloud-based mobile version of Solteq Commerce Cloud with mobile devices.
Starting from 39 €/month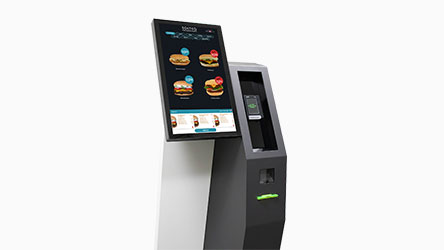 Self-service POS kiosk
Ensure additional sales with self-service solution in a POS kiosk.
Request pricing