Business Central news from Directions EMEA 2019 webinar
The Directions EMEA 2019 conference is where the Partner Community will meet with Microsoft to continue effective collaboration and growth with Dynamics 365 Business Central.
Solteq joined the event to hear and explore the latest insights, and to communicate to Microsoft Dynamics NAV & Business Central customers how to:
Upgrade existing NAV to Dynamics 365 Business Central
Benefit the updated Roadmap for Dynamics 365 Business Central on-premises and cloud, October '19 release
Successfully deal with digital transformation, technological requirements, and new pricing and policies
Create cutting edge apps and extensions by incorporating Azure Services, Microsoft Power Platform, AI and Machine Learning
Take advantage of new interesting add-on solutions
Watch the webinar recording and keep yourself up-to-date with the Business Central roadmap!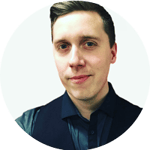 Webinar is hosted in English by
Henry Kaunislehto, Solteq Finland.

Directions EMEA is the independent conference for SMB focused Microsoft Partners, including Dynamics 365 Business Central, all Dynamics 365, Office 365 and Windows Azure partners and ISVs. It is organized by partners for partners. Directions EMEA brings together over 2500 attendees from Partners, Cloud Solution Provider and ISV companies across Europe. The Directions conference enables the Dynamics community knowledge sharing, networking and discovering new opportunities for future growth and collaboration.