In 2018, Solteq Group's revenue was 56.9 million euros and the adjusted operating profit was 3.1 million euros. Revenue grew by 12% year-on-year and the adjusted operating profit grew by 48%. The growth was primarily driven by the acquisitions executed in 2017 and the high demand for digital services. One fifth of the Solteq Group's revenue originated from outside Finland and continuous services accounted for approximately one third of the revenue.

During 2018, we focused particularly on strengthening our business foundation and the improvement of the prerequisites of our future operations. We continued to increase the efficiency of our business and the standardization of our operating practices. We also completed a number of challenging projects. In addition, special emphasis was placed on project management and its improvement. I am confident that these development actions will have a positive impact on our result for the current financial year.

The performance of our operations in Sweden and Denmark did not meet our expectations. Consequently, we placed a significant focus on these units in the second half of 2018 and renewed the structure and management. We expect a substantial improvement in the result of Sweden and Denmark in 2019.

Internationalization is an essential aspect of our growth strategy. In 2018, we integrated the acquisitions made in the previous financial year into the Solteq Group. Also, Solteq opened a new office in London at the end of 2018. The first local UK customer is Marks & Spencer.

We continued to invest significantly into our cloud-based software products and services. The aim of these investments is to accelerate the service-based (ARR, Annual Recurring Revenue) business based on our own software products and solutions through the selected spearhead solutions, as well as to continue our geographical expansion internationally with these products. We have focused particularly on products and services that combine artificial intelligence, machine vision, and autonomous robotics. Our product development investments amounted to 2.3 million euros during the review period.

The foundation of our operations is the strong and continuous development of the compentence of our personnel. In 2018, we focused particularly on project management skills, utilizing the internationally recognized PMP Certification training programme. In addition, more than one third of our personnel participated in trainings on agile methods. We succeeded well in recruitment activities during the year, and hired 121 new professionals.

I believe that our profitability will increase clearly during the financial year 2019. Our business outlook remains the same and we expect that the investments we have made in business development and the efficiency of our operations will bear fruit. Moreover, the investments we have made in our product development have started to materialize as successful customer deliveries. We expect that our industry-specific products will continue to progress on their positive commercial development path during the current year.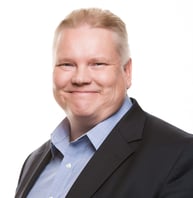 Olli Väätäinen
CEO, Solteq
+358 50 5578 111
olli.vaatainen@solteq.com